The origins of this company begin back in the 1950's when Dick Van Gelder decided to leave his publishing business and return to school to become a watchmaker. After attending school in Elgin, Illinois, he served as an apprentice with Jerry's Jewelry in Hawarden, Iowa.
In 1957 Dick opened his own store named Van Gelder Jewelry in Orange City, Iowa. Over the next 25 years Dick built a thriving business. He also added several children to his family and trained each of them in various aspects of the business.
In the early 1970's the original building was removed and replaced with a newer, more contemporary building. This storefront exists to the present day.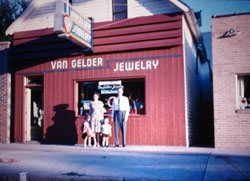 As the second to the last child, Evan began learning clock repair in 1973. Over the next ten years Evan learned clock repair, watch repair, jewelry repair, and ring repair. However, most of his time was spent with clocks and watches as he worked his way through high school and then college.
The early 1980's brought a storm of events that changed the Van Gelder's future. The discovery of quartz-based clocks and watches in the late 70's drastically reduced the need for repair work. As Dick progressed in years he began to look at retirement and what to do with the business he had built. As Evan finished college he needed to make a decision about his future vocation.
The resolution came in the form of a buyer from Minnesota who purchased the business and renamed it to Harold's Jewelry. Subsequent transfers and renames occurred with the current brand being Windmill Park Jewelers.
Evan went into computers and information systems but continued to repair clocks and watches as a hobby for many years. In 2014 after receiving a number of requests Evan decided it was time to revive the business and started Van Gelder Clockworks.