Silver Elgin Pocket Watch Serial Number 9584929
This watch was manufactured in 1901 by the Elgin National Watch Factory. The pocket watch was one of 5000 made. It is a 16 size movement, 210 grade with 7 jewels.
Summary: The watch needed a new mainspring, crystal (glass), and cleaning to put it in serviceable condition.
Here is a picture of the watch after removing the broken mainspring. The remaining pieces of the mainspring are to the right of the watch and are the original "blue steel" material.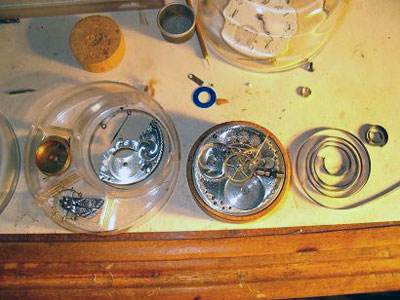 I was fortunate enough to find a replacement mainspring. The newer mainsprings are made of an alloy that is much less prone to breaking than the blue steel parts.
The face (dial) of the watch was pretty dirty and stained due to the missing crystal (cover glass). It took a bit of effort, but I finally got it pretty clean. These watches had a porcelain face which is easier to clean than the newer painted dials. However, they are more prone to cracking.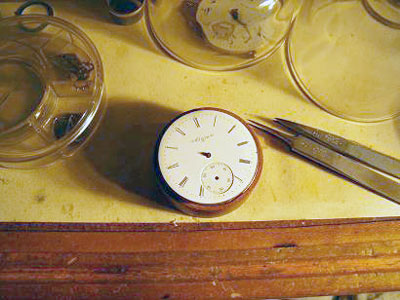 Once I had the replacement parts gathered, I prepared the watch for cleaning.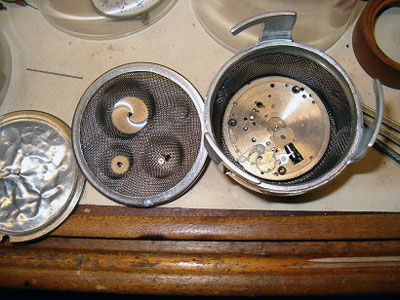 When the cleaning and drying process was complete, it was time to reassemble the watch and lubricate all of the non-jeweled bearings.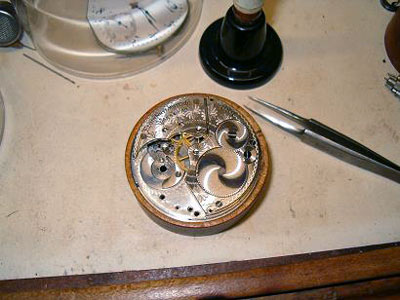 Next we reassemble the balance wheel. This is the heart of the timepiece and is the most delicate. Notice the coiled "hairspring". Thankfully, I didn't need to do any work on that component!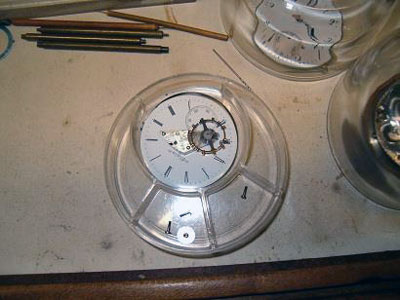 The balance wheel turns in a set of jeweled bearings with jewel caps. That accounts for 4 of the 7 jewels. The balance wheel also has a single jewel mounted in the center. This jewel rotates with the wheel and strikes two jeweled surfaces on the verge. These make up the remaining 3 jewels.
Once the watch was assembled, the only thing left was to clean the case.The nickel-silver case is easier to polish than the gold-filled cases because they are solid. On the gold-filled cases, the bright gold surface can be polished of leaving nothing but brass if you are not very careful.
The result is a beautifully restored antique timepiece!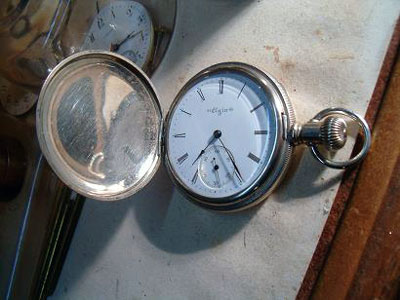 For more history and information on the Ingersoll watch company check out Antique Pocket Watch or Pocket Watch Repair.