Gold Ingersoll-Trenton Pocket Watch Serial Number: 3462102
This watch was manufactured in 1897 and is a 16 size movement with 7 jewels.
Summary: The watch seems to be in running condition, but the porcelain dial is cracked near the 7. Repair of these dials is difficult because of the fragile porcelain finish. There are companies that specialize in dial refinishing. Refinishing estimates online typically run $195-275.
Here is a picture of the dial before repairs were started.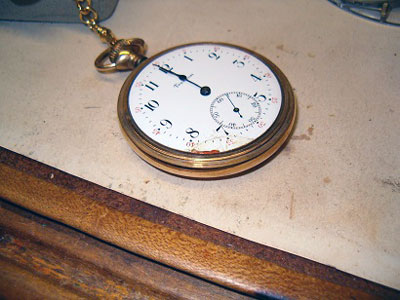 I spent some time cleaning the aged glue from the dial. That made it look quite a bit better. I then used a very fine brush to apply some white enamel to the cracks. The breakage is still visible, but much less than it was before.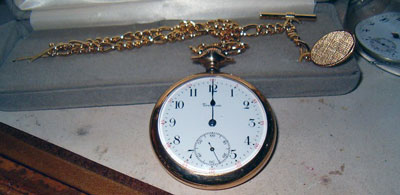 For more history and information on the Ingersoll watch company check out Antique Pocket Watch or Pocket Watch Repair.